I spent my new year's eve in Beijing, China with my friend. At first, we were looking for a winter and merry place to celebrate new year. No budget to go any further than East Asia. We chose the cheapest packages from Airasiago and Beijing was our answer. We were very glad that we went to Beijing! Here are why.
1. Numerous Historical Places and Natural Scenery
The great wall, forbidden city, summer palace, temple of heaven and many breathtaking places.
2. Convenient Metro System
I only took Beijing Subway to travel around for the whole trip. Cheap [ Very cheap ], punctual, clean, fast and almost stop for all the sightseeing places. The taxi is not too expensive too and you could use weibo or wechat to pre book or book for taxi or uber. I couldn't get a tourist sim card in Beijing so i cannot try the apps. You need to key in a valid phone number to use the apps.
Here is some tips for you to travel around in Beijing.

Get a IC card [ Metro card] – Just go to the counter and tell them you want to buy a IC card. 20rmb deposit and top up as much as you want.
Travel light, there is a security checkup point in every subway station. You need to put on your bags and queue for checking.
Some stations have no escalator or lift. Me and my friend carried our huge luggage, walked up and down to the hotel and airport.
Subway fare is incredibly cheap. RMB2 to RMB 10 for every rides.
Need not to avoid the working times. The train arrives in every 10 mins.
Download Beijing Subway apps. Check the on the lines number and exchange stations.
The earliest train in town is 5:30am-6:00am, the latest train in town is 10:30pm-11:30pm
The earliest airport train to DongZhiMen is 6:30am and the latest from DongZhiMen to airport is 10:30 pm. Better be early than sorry.
3. Food
Food heaven for spicy food lover. Sichuan hotpots, Ma la tang, braised beef noodles, Peking ducks and many more. If you are not sure what to eat, just look for the restaurant with many locals queuing.
Food list
I only managed to take a few shots of the food i had in Beijing. It was too cold!
4. Beijing people are friendly
We are very lucky to get help from the Beijing people. The people we met are friendly and willing to share things with us. We couldn't get the tourist sim and we keep getting lost. There are many of them willing to guide us and even bring us to the places we wanted to go. If you do not understand chinese, you might think they are rude but sometimes they are just talking loudly.
5. The Historical Places
Beijing is a modern city with ancient history. You can find some chinese ancient architectures in every corner. Sometimes you feel like you are walking in ancient street, sometimes you feel like you are walking in modern city. Take a chance to walk around in Hutong, you will know what i am saying.

6. Shopping
I did not shop much in my trip, but as you may know many things are manufactured in China. If you are looking to buy cheap clothes, you can hunt around in Beijing Zoo station. I heard it is a market place like Bangkok platinum mall.
7. Cheap accommodations
There are many many hotels in China and you can choose based on your budget. Cheap hotels are everywhere. I booked mine for RM500+ and stayed for 4 nights. It is decent enough for short stay and the hotel location is great. Airbnb room rates are relatively cheap too.
8. Cheap entrance fees for sightseeing places
No entrance fees is more than RMB100 in Beijing. The entrance fees is around 10rmb to 80rmb. The most expensive ticket i've bought is the cable car ticket in The Great Wall, which cost a single way 100rmb. I must say i am very happy to pay for the admission fees. They put a lot of efforts in preserving the history and heritage.
9. Feeling safe to walk around
I would not dare to walk around in my own country even in the evening. But Beijing makes us feel safe. No problem walking around the city at 10pm-11pm. There are many patrol officers around and you just have to worry for pickpocket.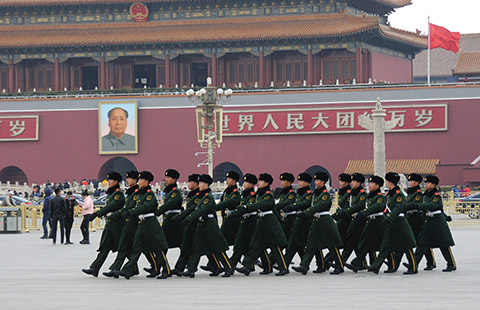 Picture taken from chinadaily.com
10. HANDSOME BOYS
Yes, we met a lot of handsome boys during our trips. No joke, there are many handsome boys in Beijing. Tall, fair, big eyes and looking like Kpop star.

Last, Beijing, i will come back for sure.